Click the comments link on any story to see comments or add your own.
---
Subscribe to this blog


RSS feed
---

07 Apr 2014
DMARC is what one might call an emerging e-mail security scheme. It's emerging pretty fast, since many of the largest mail systems in the world have already implemented it, including Gmail, Hotmail/MSN/Outlook, Comcast, and Yahoo.
Trackback link is http://jl.ly/Email/yahoobomb.trackback

---
23 Jan 2014
One of the hottest topics in the email biz these days (insofar as any topic is hot) is how we will deal with mail on IPv6 networks. On existing IPv4 networks, one of the most effective anti-spam techniques is DNSBLs, blackists (or blocklists) that list IP addresses that send only or mostly spam, or whose owners have stated that they shouldn't be sending mail at all. DNSBLs are among the cheapest of anti-spam techniques since they can be applied to incoming mail connections without having to receive or filter spam. On my system about 85% of incoming IPv4 mail connections are handled by DNSBLS, and I gather that number is pretty typical.

On IPv6, DNSBLs can't work the same way.
Trackback link is http://jl.ly/Email/v6fun.trackback

---
23 Dec 2013
Everyone who's been in the e-mail biz long enough knows the term FUSSP, Final Ultimate Solution to the Spam Problem, as described in a checklist from Vern Schryver and a form response that's been floating around the net for a decade.
Trackback link is http://jl.ly/Email/dmfussp.trackback

---
28 Oct 2013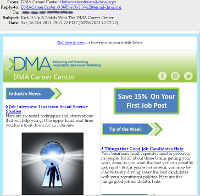 The Direct Marketing Organization (DMA) is the trade association for companies that advertise by paper junk mail. They were the driving force behind the weak opt-out CAN SPAM act, which kept a much stronger California law from going into effect. For a while about a decade ago it sponsored a useless do-not-spam database which was supposed to solve the spam problem. But yesterday, the DMA reminded us how well they really understand e-mail marketing.
Trackback link is http://jl.ly/Email/dmaspam.trackback

---
16 Sep 2013
Spam Arrest is a company that sells an anti-spam service. They attempted to sue some spammers and, as has been widely reported, lost badly. This case emphasizes three points that litigious antispammers seem not to grasp:
Under CAN SPAM, a lot of spam is legal.
Judges hate plaintiffs who try to be too clever, and hate sloppy preparation even more.
Never, ever, file a spam suit in Seattle.

Trackback link is http://jl.ly/Email/spamarrest.trackback

---
Topics
My other sites
Other blogs
CAUCE
The Crap They Sell Online
36 days ago
A keen grasp of the obvious
At least they're warm blooded
121 days ago
Related sites
Coalition Against Unsolicited Commercial E-mail
---