Click the comments link on any story to see comments or add your own.
---
Subscribe to this blog


RSS feed
---

27 Oct 2013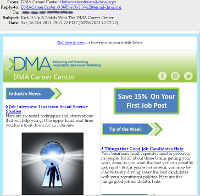 The Direct Marketing Organization (DMA) is the trade association for companies that advertise by paper junk mail. They were the driving force behind the weak opt-out CAN SPAM act, which kept a much stronger California law from going into effect. For a while about a decade ago it sponsored a useless do-not-spam database which was supposed to solve the spam problem. But yesterday, the DMA reminded us how well they really understand e-mail marketing.
Trackback link is http://jl.ly/Email/dmaspam.trackback

---
15 Sep 2013
Spam Arrest is a company that sells an anti-spam service. They attempted to sue some spammers and, as has been widely reported, lost badly. This case emphasizes three points that litigious antispammers seem not to grasp:
Under CAN SPAM, a lot of spam is legal.
Judges hate plaintiffs who try to be too clever, and hate sloppy preparation even more.
Never, ever, file a spam suit in Seattle.

Trackback link is http://jl.ly/Email/spamarrest.trackback

---
22 Jul 2013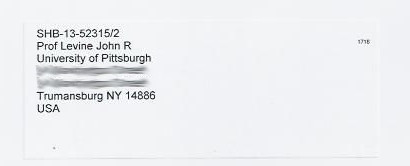 The other day I got an odd flyer in the mail, sent from Singapore, advertising a $1,000 six volume reference set about wellbeing, which is apparently an academic subject these days. (Click on the label to see the whole thing.)

This is a rather odd thing to arrive in my mailbox, since it is not a topic in which I have ever shown the least bit of interest. But a little squinting at the label reveals what happened.
Trackback link is http://jl.ly/Email/ependrl.trackback

---
18 Jun 2013
Scientific American is a well known respectable magazine that's been around forever. So this is a normal renewal notice, right? Wrong. It's spam from a crooked subscription agent.
Trackback link is http://jl.ly/Email/scispam.trackback

---
10 Jun 2013
Last week a Utah court issued a default judgement under CAN SPAM in Zoobuh vs. Better Broadcasting et al. I think the court's opinion is pretty good, even though some observers such as very perceptive Venkat Balasubramani have reservations.
Trackback link is http://jl.ly/Email/zoobuh.trackback

---
Topics
My other sites
Other blogs
CAUCE
CANADA'S ANTI-SPAM LAW COMING INTO FORCE JULY 01, 2014
14 hours ago
A keen grasp of the obvious
The Velikovsky Rule
54 days ago
Related sites
Coalition Against Unsolicited Commercial E-mail
---