Click the comments link on any story to see comments or add your own.
---
Subscribe to this blog


RSS feed
---
17 Sep 2016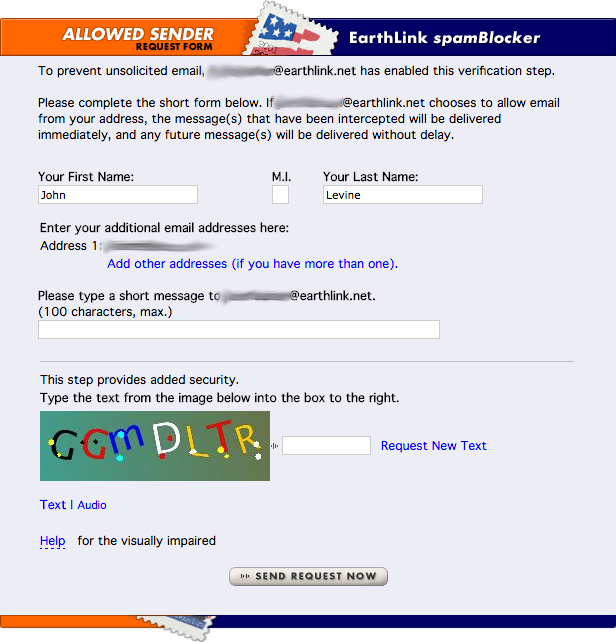 A few days ago I was startled to get an anti-spam challenge from an Earthlink user, to whom I had not written. Challenges are a WKBA (well known bad idea) which I thought had been stamped out, but apparently not.

The plan of challenges seems simple enough; they demand that the sender does something to prove he's human that a spammer is unlikely to do. The simplest ones just ask you to respond to the challenge, the worse ones like this one have a variety of complicated hoops they expect you to jump through.

What this does, of course, is to outsource the management of your mailbox to people who probably do not share your interests.
Trackback link is https://jl.ly/Email/badchallenge.trackback

---
05 Sep 2016
A friend (really) asked for advice about what to say about mail authorization to people setting up new mail systems, particularly in parts of the world where networks are relatively new and staff less experienced.
Phish targets
The first question is are you a phish target? There's two parts to this question.
Trackback link is https://jl.ly/Email/authcheat.trackback

---
31 Jul 2016
The latest ICANN domain auction brought the auction proceeds piggy bank to about $240 million. The application fees for the new gTLD round were $361 million of which, at the end of March, they'd spent $227 million, and their very conservative estimate is that at the end of the process they'll have spent $289 million. If you add the numbers from the private auctions to the ones for the ICANN auctions, it's as much or more than the application costs. These suggest a much better way to pay for the next round.
Trackback link is https://jl.ly/ICANN/cheapauction.trackback

---
28 Jul 2016
Domain Name Wire is reporting that the the winning bid in the auction for .WEB was $135,000,000.

Assuming they're right (which they probably are,) that brings the total web auction piggy bank to over $230 million, more than twice what it was two days ago.

At the Helsinki meeting there was already a lot of interest in the process to decide how the money is distributed, but now there'll be twice as much.


Trackback link is https://jl.ly/ICANN/holypetunias.trackback

---
23 Jul 2016
This week ICANN will auction off .WEB or .WEBS. There are seven live applications for .WEB and one for .WEBS.

The string contention process decided that the two names are so similar that they'll only assign one of them, so all eight applications are in one auction. (The same string contention process decided that .ACCOUNTANT and .ACCOUNTANTS are both allowed, as are .AUTO and .AUTOS and .BM and .BMS and .COUPON and .COUPONS and .FAN and .FANS and .GIFT and .GIFTS and .LOAN and .LOANS and .ML and .MLS and .NEW and .NEWS and .REVIEW and .REVIEWS and .SA and .SAS and .SB and .SBS and .TV and .TVS and .WATCH and .WATCHES and .WORK and .WORKS, but I guess the Web is special.)

There are some deep pocketed bidders in this round including Google, Donuts, web.com which owns Network Solutions and a lot of other web properties, and Schlund which owns the largest web hoster 1&1. Google paid $25 million for .APP and GMO paid $41 million for .SHOP. It's hard to see how .WEB would be worth less than either of those unless bidder fatigue sets in.

So stay tuned and we'll shortly know how much more will be added to the $104 million already in the Giant Pile of Auction Money.


Trackback link is https://jl.ly/ICANN/webauc.trackback

---
Topics
My other sites
Other blogs
Related sites
---