Click the comments link on any story to see comments or add your own.
---
Subscribe to this blog


RSS feed
---
10 Nov 2013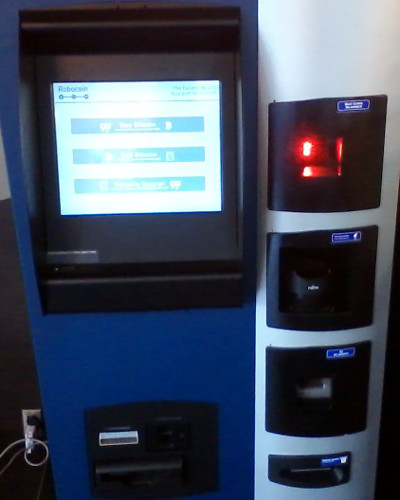 IETF 88 last week in Vancouver. Probably not by coincidence, a coffee shop a few blocks away had just installed a Bitcoin vending machine, and since I've said lots of rude things about Bitcoins (which are still pet rocks only without the rocks) I figured I should go try it out.
Press reports called it a Bitcoin ATM, but it's really a vending machine: you put in money and it sells you Bitcoins, or (in theory at least) vice versa. The machine has a largish touch screen on the left, with slots below that accept and dispense cash. On the right is a QR code reader, a palm reader, a device I didn't use, and at the bottom a ticket printer.
Before you can use the machine, you have to set up an account identified by your palm print, apparently because the government limits transactions to $3000 per user per day. You put your hand into the palm reader 5 or 6 times until it has an adequate set of images. Then it asks for an optional e-mail addreess and tells you to come back later while it sets up an account and, presumably checks your palm print to be sure you're not a known bad guy. About five minute later I got the e-mail telling me I was approved.
To buy bitcoins, you authenticate with a palm print, then tell it how much you want to buy. I bought the minumum $20. It asked if I had a Bitcoin wallet, and since I didn't, it made one and printed out a ticket with a QR code for the wallet. Then I fed in a $20 bill, and it sold me 0.08042383 Bitcoins which it transferred to the wallet on the ticket. If I'd had a wallet already, I could have scanned a QR code from a wallet app or typed in the wallet's serial number, and it would have transferred them to that wallet.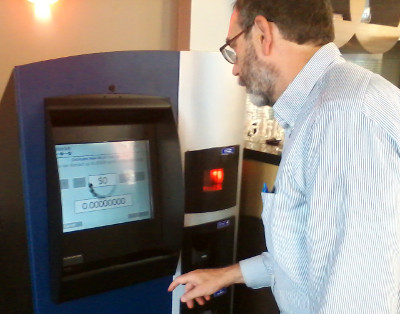 ---
Topics
My other sites
Other blogs
Related sites
---