Click the comments link on any story to see comments or add your own.
---
Subscribe to this blog


RSS feed
---
14 Mar 2017
Yesterday at ICANN 58 in Copenhagen there was session on DNS Abuse Mitigation:
The Cross Community Topic Discussion proposed by the GAC Public Safety Working Group will focus on ICANN's Efforts, based on answers to questions in Annex 1 of Hyderabad Communiqué with expected contributions from ICANN's SSR Team and Contractual Compliance.
In one of the talks, ICANN staff talked about the new Abuse Data Analysis Platform, with an example with live data, including the ten worst gTLDs, ranked by the percentage of the TLD's names that have various abuse indicators (click on the picture to see it at legible size):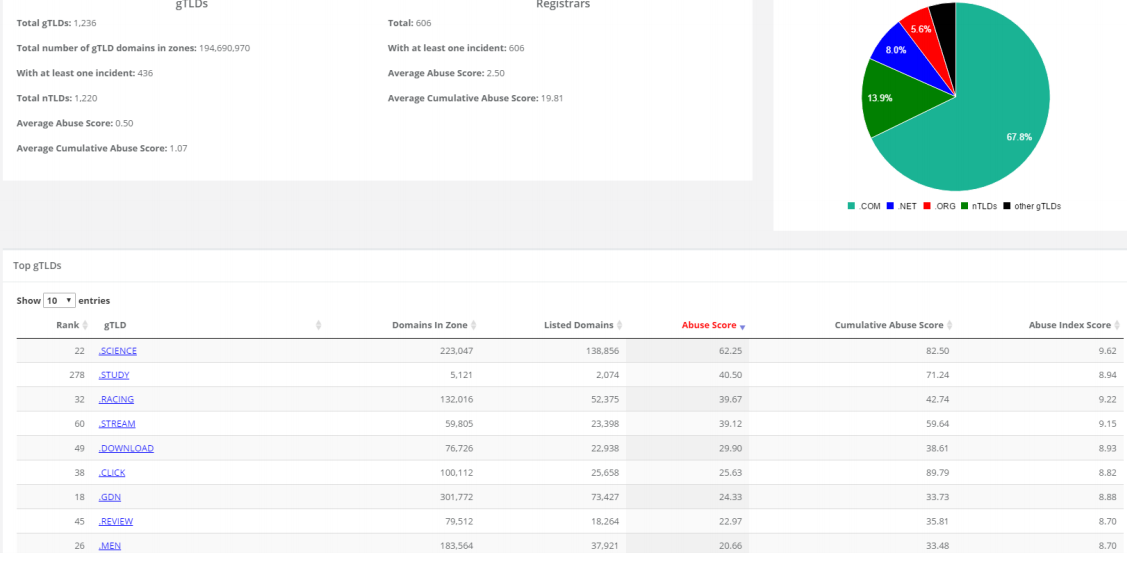 The average abuse score is 0.50 for all TLDs is, and the winner is .SCIENCE with a score of 62.25, meaning a majority of all of the registered names are used for abuse. The tenth is .MEN, where only 1/5 are evil.

None of these numbers surprise anyone who's been following the abuse numbers, but it's nice to have this highly credible confirmation.

Of course, it remains to be seen what if anything the registries and ICANN will do about it.


posted at: 12:32 :: permanent link to this entry :: 0 comments

comments... (Jump to the end to add your own comment)

Add your comment...

Note: all comments require an email address to send a confirmation to verify that it was posted by a person and not a spambot. The comment won't be visible until you click the link in the confirmation. Unless you check the box below, which almost nobody does, your email won't be displayed, and I won't use it for other purposes.
Topics
My other sites
Other blogs
CAUCE
Remembering JD Falk - 10 years later
222 days ago
A keen grasp of the obvious
New Hope for the Dead
464 days ago
Related sites
Coalition Against Unsolicited Commercial E-mail
---