Click the comments link on any story to see comments or add your own.
---
Subscribe to this blog


RSS feed
---
02 Dec 2012
I have a twitter account that I hardly ever use. I set it up a while ago when I was debugging some tweeting scripts, such as the one that tweets new posts to this blog, and I only use it now on the rare occasions when I change something in the scripts. (Feel free to follow it, but don't hold your breath.) I've turned off all the message options for that account, so I was somewhat surprised to get this:
---
From: Twitter <n-fivpgrfg=xxxx@postmaster.twitter.com>
To: Test Account <xxx@xxx>
Subject: Discover more on Twitter!
 
Hey Test Account (@svictest), Twitter has suggestions for you!
 
Did you know that Twitter generates personalized Who To Follow
suggestions for you? Following the ones you like will help you stay
informed on what matters most to you today and discover what might
matter to you most tomorrow.
 
Curious to know who you're missing on Twitter right now?
View all suggestions for you: https://twitter.com/who_to_follow
 
Visit your Twitter home page: https://twitter.com
 
Forgot your Twitter password?: https://twitter.com/account/resend_password
 
If you received this message in error and did not sign up for a
Twitter account, click on the url below:
https://twitter.com/account/not_my_account/svictest/xxx
 
Need help with something? Visit our help center: https://support.twitter.com
 
------------------------
 
Forgot your Twitter password? Get instructions on how to reset it:
https://twitter.com/account/resend_password
 
You can also unsubscribe to these emails or change your notification settings:
https://twitter.com/i/u?xxxxxxx


---
So if I turned off all the mail, why were they sending me this? I clicked on the unsubscribe link, and all was explained: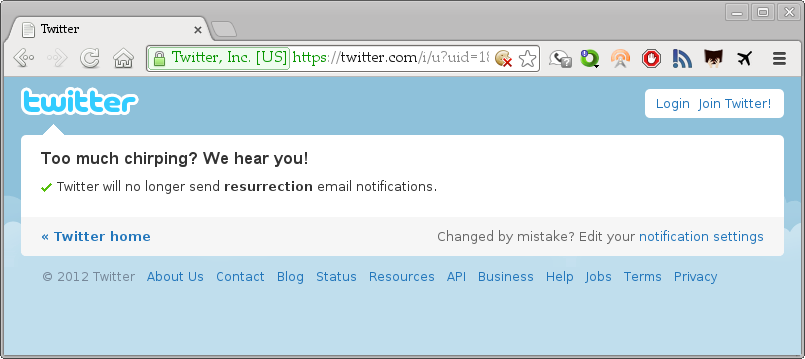 Send resurrection offers, huh? Nice try, but I'm still dead, not pining for the fjords. And since I told them not to send me any mail, it's spam. Pfui.

(Do people really respond to this stuff? Everyone I know finds it totally irritating.)


posted at: 13:01 :: permanent link to this entry :: 2 comments

comments... (Jump to the end to add your own comment)

I think you are being a bit too sensitive. Sounds to me like Twitter is doing a well-deserved comb through prior to deleting some inactive accounts.

(by neil 02 Dec 2012 13:16)
---
Inactive?
Does Twitter ever delete inactive accounts? Seems to me that if that were their purpose, they'd have given a hint that I need to do something or the account will go away.

(by John L 02 Dec 2012 13:19)
---
Add your comment...
Note: all comments require an email address to send a confirmation to verify that it was posted by a person and not a spambot. The comment won't be visible until you click the link in the confirmation. Unless you check the box below, which almost nobody does, your email won't be displayed, and I won't use it for other purposes.
Topics
My other sites
Other blogs
CAUCE
Remembering JD Falk - 10 years later
20 days ago
A keen grasp of the obvious
New Hope for the Dead
262 days ago
Related sites
Coalition Against Unsolicited Commercial E-mail
---