Click the comments link on any story to see comments or add your own.
---
Subscribe to this blog


RSS feed
---
30 Sep 2016
Unsubscribing from mailing lists is hard. How many times have you seen a message "please remove me from this list," followed by two or three more pointing out that the instructions are in the footer of every message, followed by three or four more asking people to not send their replies to the whole list (all sent to the whole list, of course,) perhaps with a final message by the list manager saying she's dealt with it?

For marketing broadcast lists, it's even worse because there's no list to write to. Messages are supposed to have an unsubscribe link (required by law in most places) which usually works except when it doesn't, or it leads to a web page making incomprehensible demands ("click here unless you want not to be removed only from this sender's mail") so for a lot of users it's easier just to click the junk button until the messages go away.
Stable link is https://jl.ly/Email/oneclick.html

---
20 Sep 2016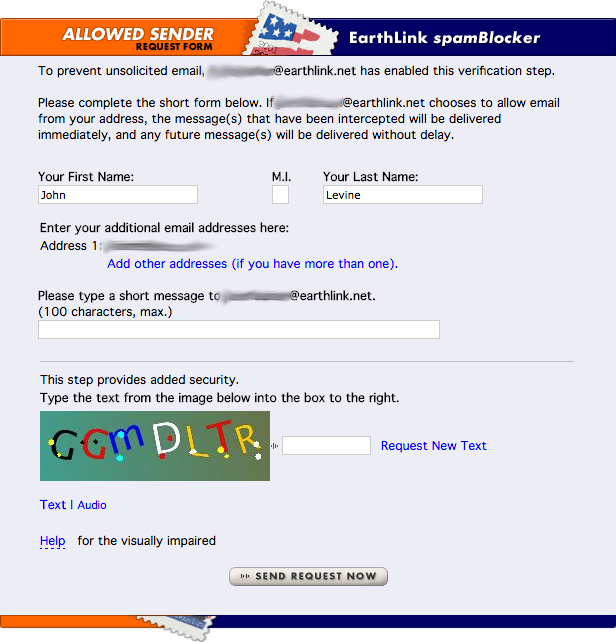 A few days ago I was startled to get an anti-spam challenge from an Earthlink user, to whom I had not written. Challenges are a WKBI (well known bad idea) which I thought had been stamped out, but apparently not.

The plan of challenges seems simple enough; they demand that the sender does something to prove he's human that a spammer is unlikely to do. The simplest ones just ask you to respond to the challenge, the worse ones like this one have a variety of complicated hoops they expect you to jump through.

What this does, of course, is to outsource the management of your mailbox to people who probably do not share your interests.
Stable link is https://jl.ly/Email/badchallenge.html

---
05 Sep 2016
A friend (really) asked for advice about what to say about mail authorization to people setting up new mail systems, particularly in parts of the world where networks are relatively new and staff less experienced.
Phish targets
The first question is are you a phish target? There's two parts to this question.
Stable link is https://jl.ly/Email/authcheat.html

---
Topics
My other sites
Other blogs
Related sites
---